PS5 console and games wholesale distributor
Any questions?
You are always welcome to contact us with any questions you might have.
Buy wholesale PlayStation 4 and PlayStation 5
There is no doubt that PlayStation is a huge hit. All over the world, millions of gaming enthusiasts have purchased the popular gaming console from Sony. A huge selection of cool games has been developed for the console, so there is an almost infinite number of hours of entertainment with a PlayStation. PlayStation was founded and owned by Sony, and the story begins as early as 1994 with the launch of the first PlayStation in Japan. Since then, PlayStation has become a part of people's homes around the world. PlayStation has evolved from being simple gaming consoles and handheld PS systems to being versatile gaming and entertainment systems such as the PS5.
PlayStation was and still is a very successful console. A lot has happened since the first PlayStation was launched, which is why today there are both PlayStation 4, PlayStation 4 Pro, PlayStation VR and now also PlayStation 5. In our large assortment you find both PS4 and PS5 consoles for wholesale. We also have everything in accessories and the coolest, most popular and latest games, so you can get everything for PlayStation 4 and PlayStation 5 for your retail store or web shop. Buy wholesale PS console, wholesale PS games, wholesale PS controller and accessories from Entertainment Trading A/S with competitive prices and worldwide shipping.
Sign up and get access to PlayStation Consoles, games, controller and accessories
In our large PS4 wholesale selection, you will find games for all tastes, no matter what genres you are looking for. We sell the latest new versions that have the best graphics and the latest features. In the selection you will find classics like Grand Theft Auto for the speed-loving, entertainment games like Singstar for the party-loving, First Person Shooter games like Call of Duty and Tekken for those who prefer fighting, weapons and warfare when playing, as well as the popular FIFA to all sports enthusiasts.
With its new design and amazing controller, the new PlayStation 5 has revolutionized gaming. PlayStation 5 is backward compatible with a back catalog of PlayStation 4 games. So, you can still enjoy the PS4 classics on the new PS5. But of course, you will also find a selection of PS5 games in our wholesale catalog. As your PlayStation 5 distributor we offer bulk quotes and great wholesale prices.
Become a customer
Ready to get started?
Entertainment Trading is a real trading house, constantly looking for new suppliers and business partners: We work with everyone from small local businesses to the world's largest supermarket chains.
Brand products
Selected products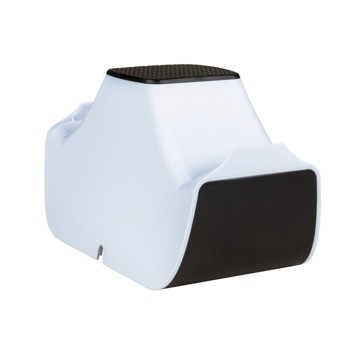 PS5 Dual Charger
PlayStation 5