Bruder Toys wholesale distributor
Any questions?
You are always welcome to contact us with any questions you might have.
Explore High-quality and realistic Bruder toy vehicles
Bruder is a German family-owned company that has been manufacturing top-quality toys since 1926. Here, the details have certainly not been spared, and a toy car from Bruder just looks like a mini version of a real car. At Entertainment Trading A/S, we have a varied wholesale selection so everything from agricultural machinery to other motorized vehicles can be assembled.
Toy cars have always been a sure hit with children, and with Bruder you get a realistic and complete product that children can enjoy through large parts of childhood. Bruder is a highly acclaimed brand and there is not a finger to put on either design or features. Buy the well-known toy brand Bruder for your retail store or web shop at competitive prices and with worldwide shipping.
With Bruder toys, the game becomes lively and entertaining, and children can also learn about how everyday life works for many of those who keep the country going. Several of the products have doors that can be opened, where a figure can be placed behind the steering wheel to control the course of the stroke. Order wholesale Bridal toys in bulk from our B2B shop.
Sign up and get access to wholesale toys from Bruder
With Entertainment Trading A/S as your Bruder distributor, you get multifunctional and highly detailed and lifelike toy cars from Bruder. Find in our wholesale assortment vehicles, trucks, agricultural machinery and construction machinery, and we naturally carry many of the fantastic special vehicles in our regular wholesale assortment.
Each Bruder vehicle and machine are designed to handle one or more special tasks. The exciting toy invites to play and learning. Children learn about how the vehicles work, and it gets the opportunity to create its very own unique games and stories. Access our large B2B web shop and see the current wholesale prices and stock on Bruder toys.
Become a customer
Ready to get started?
Entertainment Trading is a real trading house, constantly looking for new suppliers and business partners: We work with everyone from small local businesses to the world's largest supermarket chains.
Brand products
Selected products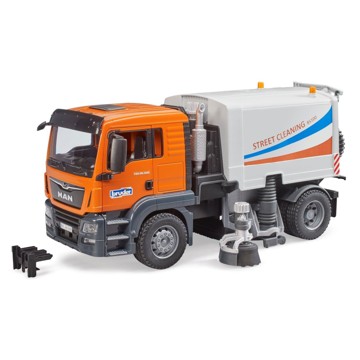 Bruder - MAN TGS Street Sweeper (BR3780)
Cars, trains and vehicles
Bruder - Man TGA Breakdowntruck with Cross Country Vehicle (BR2750)
Cars, trains and vehicles
Bruder - CAT Excavator (BR2483)
Cars, trains and vehicles